© Clean Tech Mission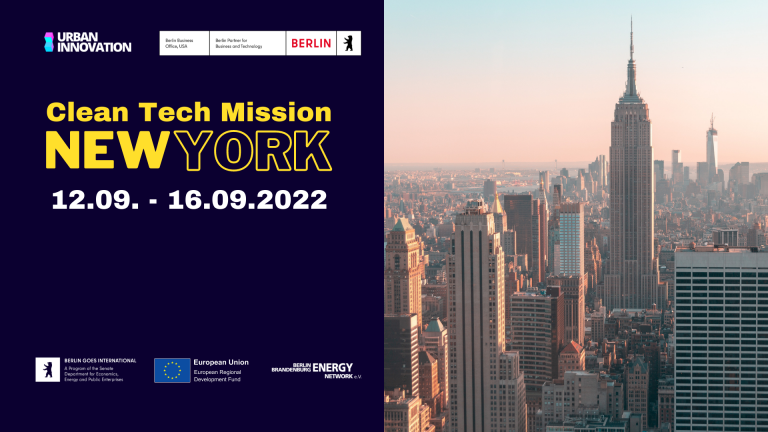 12. September 2022 –
16. September 2022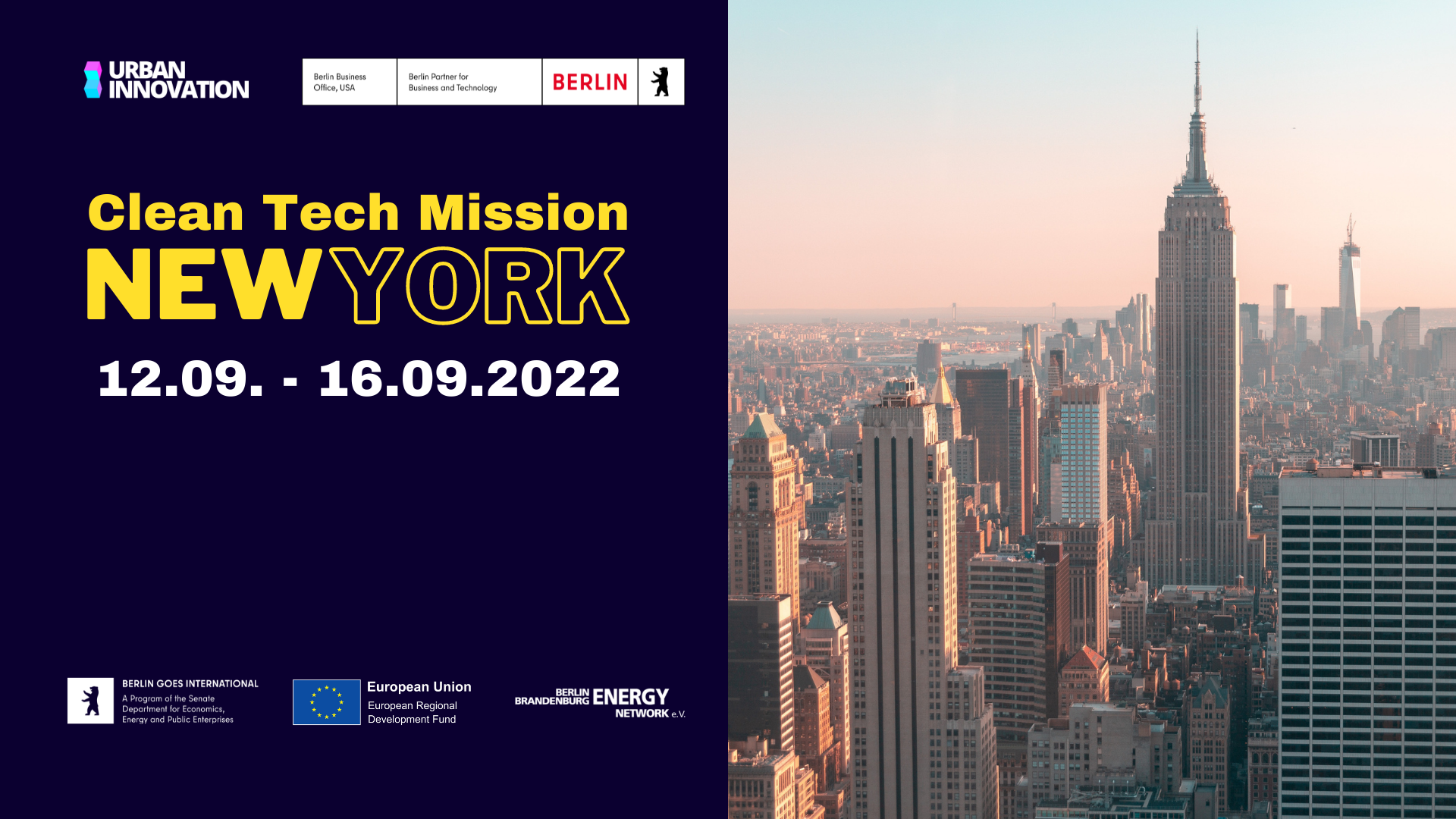 ©
About this event
We offer you the unique opportunity of a high-caliber market exploration program: Sharpen your business model and value proposition for the US with our mentors and experts. Connect with key decision makers in New York and get valuable feedback for your go-to-market strategy.
This mission is organized by Urban Innovation, a program by Berlin-Brandenburg Energy Network, in collaboration with Berlin Partner for Business and Technology and the Berlin Business Office, USA.
Date: September 12 - 16, 2022
Format: 5-day business trip
First-hand insights into best practices from your industry
Pitch training & mentoring
Meetings with VCs, local partners and stakeholders
Assess your product-market fit
Explore individual business opportunities & scale your business
Be part of an exclusive cohort of high-impact organizations from Berlin
Together we participate in the Greentech Festival New York
Berlin start-ups, scale-ups and innovators
C-Level and founders, business development and expansion teams
Organizations focused on the sustainable transformation of urban spaces, offering innovative solutions in areas such as clean tech and mobility.
Acceleration: We introduce you to local partners, innovators and city officials to accelerate your business growth
Ecosystem: Learn first-hand about local best practices and success stories from your industry
Matchmaking: Connect with potential customers and explore individual business opportunities
Training & Mentoring: Learn from program mentors and key industry players who will help you scale your business
Urban Innovation brings together Berlin start-ups and scale-ups from the cleantech & mobility sectors with key players, decision-makers, investors and business partners in Berlin and the ecosystems of the US, the UK, and Singapore.
Berlin Partner for Business and Technology works on economic growth, promotes business, technology and innovation, and presents the advantages of the capital to companies, investors and talents. Berlin Partner supports companies and scientific institutions that are already established in the region in their expansion plans and connects them within the strong Berlin Partner network. In addition, Berlin Partner's experts provide information on funding opportunities and advise on the search for suitable locations or highly qualified personnel.
The Berlin Business Office USA is Berlin's economic development office in the USA and part of the Senate Department for Economics, Energy and Public Enterprises with the goal of strengthening the connectivity between Berlin and the USA.
Apply to join the Mission
Apply for the #cleantech mission 2022 and get the chance to learn about the New York City ecosystem, make new contacts and expand into the local market.
In order to apply for the mission, please register for a free ticket in Eventbrite
To complete your application, please submit your pitch deck to: sulm@bbenergynetwork.de
The application deadline is 30 June 2022.
Please note:
One registration per company is valid for up to two participants.
The mission will be limited to a maximum of 10 companies.
Registrations will be confirmed by the organizers after a selection process latest by 15 July 2022.
The participants will bear their travel and accommodation costs.
All documents and information submitted will be treated confidentially.
If you have any questions about the trip or the application, feel free to reach out to sulm@bbenergynetwork.de