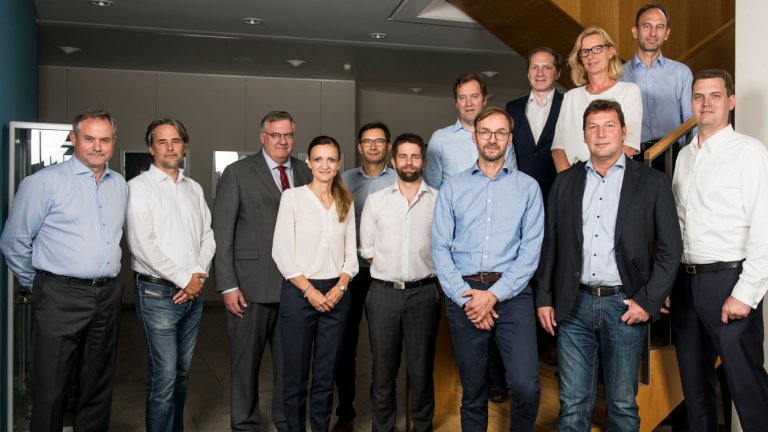 © WFBB
Advisory board of the Energy Technology Cluster
The Advisory Board is an honorary, active, strategic advisory body of the Energy Technology Cluster. It consists of companies, scientific institutions and multipliers (e.g. IHKs, associations) from Berlin and Brandenburg and is appointed for three years.
The advisory board makes recommendations for the implementation and updating of the master plan on the basis of an analysis of progress in the fields of action and in the top themes as well as of results and impact monitoring.
It advises on future top themes and accompanies their implementation.
Martin Beckmann | ENERTRAG | Head of Legal Department
Martin Beckmann joined ENERTRAG in 2012 as head of the legal department, focusing on contract drafting, project purchases and sales, regulatory issues, in particular sector coupling, power-to-gas and integrated power plants. In addition, he was a member of the legal advisory board of BWE, dena's Power-to-Gas platform, BDEW's energy storage committee and DWV's performing energy industry initiative.
Prof. Dr. Frank Behrendt | TU Berlin | Professor for Energy Process Engineering and Conversion Techniques of Renewable Energies 
Prof. Dr. Frank Behrendt heads the Department of Energy Process Engineering and Conversion Technologies of Renewable Energies at the Technical University of Berlin. In this function he is also active in the Innovation Center Energy. The Innovation Centre Energy bundles and brings together the activities of the TU Berlin in the field of energy research. This means that it networks the expert knowledge in the field of energy available at the IZE and offers a central platform for communication and cooperation with industrial and external research partners. The IZE promotes and supports young people in the field of energy and strengthens energy research in the Berlin-Brandenburg capital region.
Stefan Dallorso | Stadtwerke Hennigsdorf | Technical Manager
Stadtwerke Hennigsdorf operates a district heating network with 7 heating (power) stations, 57 kilometres of pipeline, 9,800 supplied residential units, around 70 commercial and industrial enterprises and municipal facilities. Already today, more than 50 percent of the grid is fed from renewable energies. In the future, almost complete heat coverage from regenerative and climate-neutral sources is to be achieved by using industrial waste heat from the Hennigsdorf electric steelworks and intelligently combining new technological and scientific approaches, including all regional resources.
Sebastian Kießling | Euro-K | Managing Director
Euro-K GmbH is an ambitious company developing micro gas turbines and combustion systems for stationary and mobile applications. This makes EURO-K a partner for the energy conversion of tomorrow.
Prof. Dr. Katharina Löwe | TH Brandenburg | Department of Technology
FB Technik's research and development topics are broad and range from energy and resource efficiency to modern and intelligent sensors and optical technologies, to name but a few. All topics are characterized by a high scientific standard with a direct practical relevance. The various research groups have good regional, supra-regional and international links to industry and research. Modern, well-equipped laboratories are available for experimental investigations.
René Markgraf | IBAR Systemtechnik | Managing Director
IBAR Systemtechnik supplies flexible, sustainable and economical solutions - in the four business segments Electrical Engineering, Automation and Robotics, Migration to SIMATIC S7, Energy Control Center.
Dr. Alexander Meeder | Geo-En Energy Technologies | Head of Product Development
Geo-En is a leading specialist in renewable heating and cooling. We develop, plan and build innovative energy systems that protect the climate and pay for themselves. We replace fossil energy with geothermal energy, combined heat and power and solar technology. With our team of engineers, heating engineers and control engineers, we analyze your building holistically, develop tailor-made energy concepts and realize geothermal sources and turnkey hybrid plants.
Claudia Rathfux | Stromnetz Berlin | Authorized signatory and head of customer and market relations
The digital energy revolution is in full swing - with forward-looking technologies, the Berlin power grid is being transformed into an intelligent power grid, the Smart Grid. Decentralized and renewable power generation plants, such as photovoltaic plants, wind turbines, combined heat and power plants of various sizes and bioenergy plants, have long been connected to the distribution grid. The goal is to make Berlin climate-neutral by 2050. However, the energy turnaround will not only involve increasing the share of renewable electricity in total consumption, it will also increasingly focus on increasing energy efficiency.
Burkhard Rhein | UVB | Head of Department Industrial, Energy and Infrastructure Policy
Burkhard Rhein is Head of Department for Industrial, Energy and Infrastructure Policy at the Berlin-Brandenburg Business Associations (UVB). The UVB is the leading economic and socio-political association in the region. It is made up of 60 business and employers' associations from industry, commerce, insurance and service sectors as well as the skilled trades. Further members are nationally active associations without a regional structure, which participate in the UVB to represent their local member companies. The UVB is also the regional association of the Federal Association of German Employers' Associations (Bundesvereinigung der Deutschen Arbeitgeberverbände) and the regional representative of the Federation of German Industries (Bundesverband der Deutschen Industrie).
Eric Rüffel | E.DIS AG | Head of Business Development
E.DIS AG is one of the largest regional energy service providers in Germany, far beyond the classic topic of energy supply. For the future of the region, E.DIS is committed to broadband expansion and electric mobility and is actively shaping the energy world of tomorrow - regionally, closely and reliably. Eric Rüffel is head of business development at E.DIS.
Dr. Alexander Willner | FOKUS | Head of Industrial Internet of Things (IIoT) Center Business Division NGNI
Dr. Alexander Willner is head of the Center Industrial Internet of Things (IIoT) at the Fraunhofer Institute for Open Communication Systems (FOKUS) and head of the research group IIoT at the Technical University Berlin (TUB). In cooperation with the Berliner Leistungszentrum Digitale Vernetzung (LZDV), he and his groups are working on applying standards-based IoT technologies to industrial areas. With an emphasis on the realization of interoperable communication within industry 4.0, real-time networks (TSN), middleware systems (OPC UA), symbolic KI (digital twins) and distributed clouds (edge computing) are among the most important focal points.
Further partners in the cluster advisory board
50Hertz Transmission, Berliner Stadtwerke, BTU Cottbus-Senftenberg, IG Metall Berlin, IHK Berlin, IHK Cottbus, Vattenfall Europe Berlin, KIC InnoEnergy Germany